Letter from a Green Party member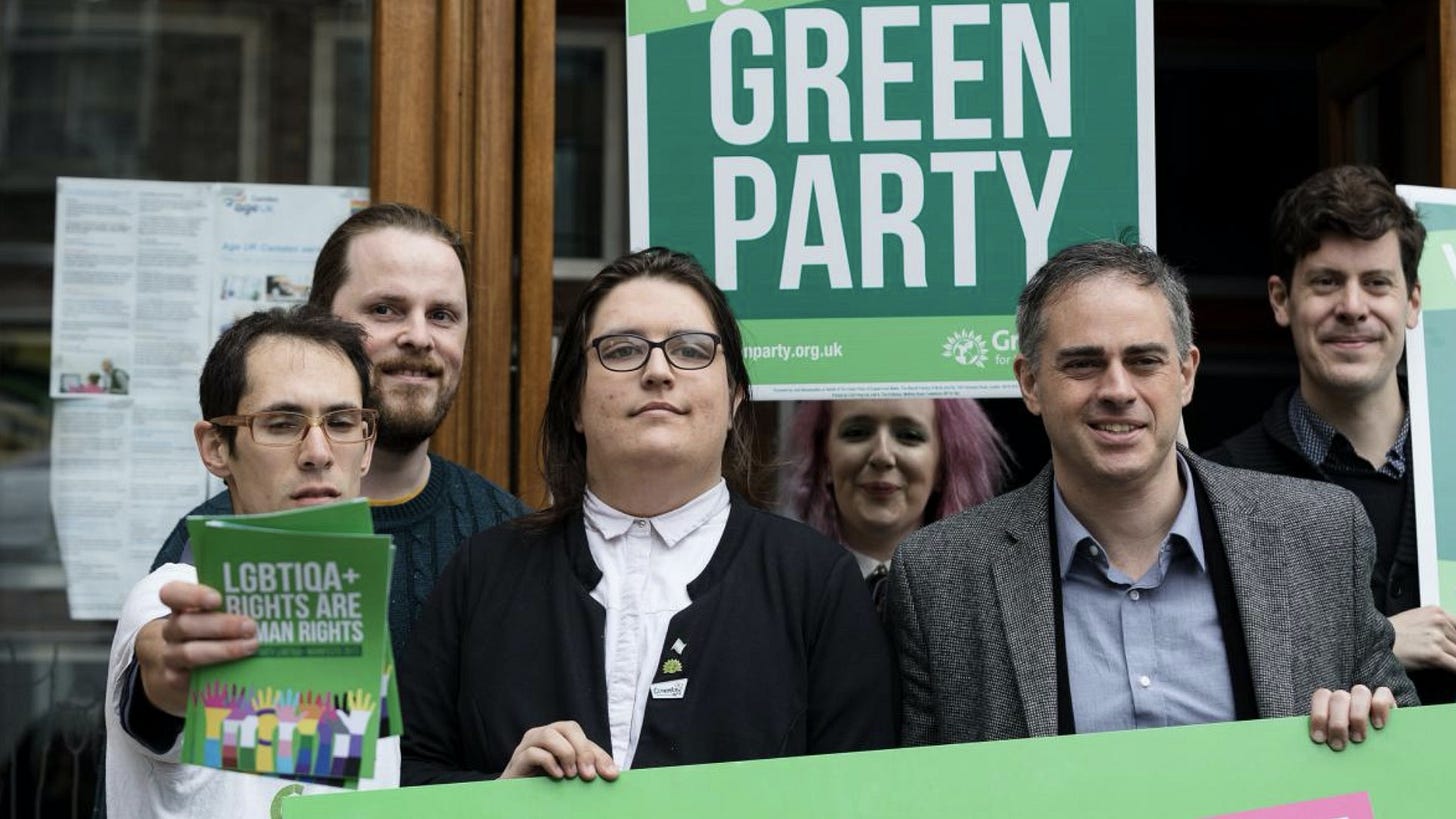 Dear Graham,
In the Green Party, whose online conference finished on Sunday, the gender wars are being fought out most bitterly in the election for a new committee for Green Party Women - the group that represents women in the party.
Over the last year, the valiant women in this group have been doing some great stuff supporting women to stand for political office, running monthly online conferences on issues such as air pollution's effects on children, domestic violence during the lockdown, a regular feminist book group and weekly free yoga class aimed at key workers.
At the same time, they have been holding the line against up-front and underhand attempts to undermine them by the trans-activists who will not rest while there is a single woman in the party still refusing to recite the mantra 'transwomen are women' and opening all women's spaces to men. 
Now there is a 'take-over bid' for Green Party Women involving deputy leader Amelia Womack, recent leadership contender and former MMA fighter Rosi Sexton, former MEP and mayor of Brighton Alex Phillips and a slate of others who wish to see the definition of woman - and presumably also her rights - expanded to include anyone who wants to identify as such. 
Judging from the re-Tweets of their 'slate', they have high-profile supporters including co-leader Sian Berry and her fellow London Assembly Member Caroline Russell.
At their helm is the trans-identified male Kathryn Bristow, who is standing to be chairperson of Green Party Women. Under its bonkers rules, membership of Green Party Women is open to any member who identifies as a woman or 'gender-variant'. 
Thanks to Kathryn's busy Twitter feed (@KathrynBristow), we now have a glimpse of what future priorities for GPW might be if Kathryn is elected.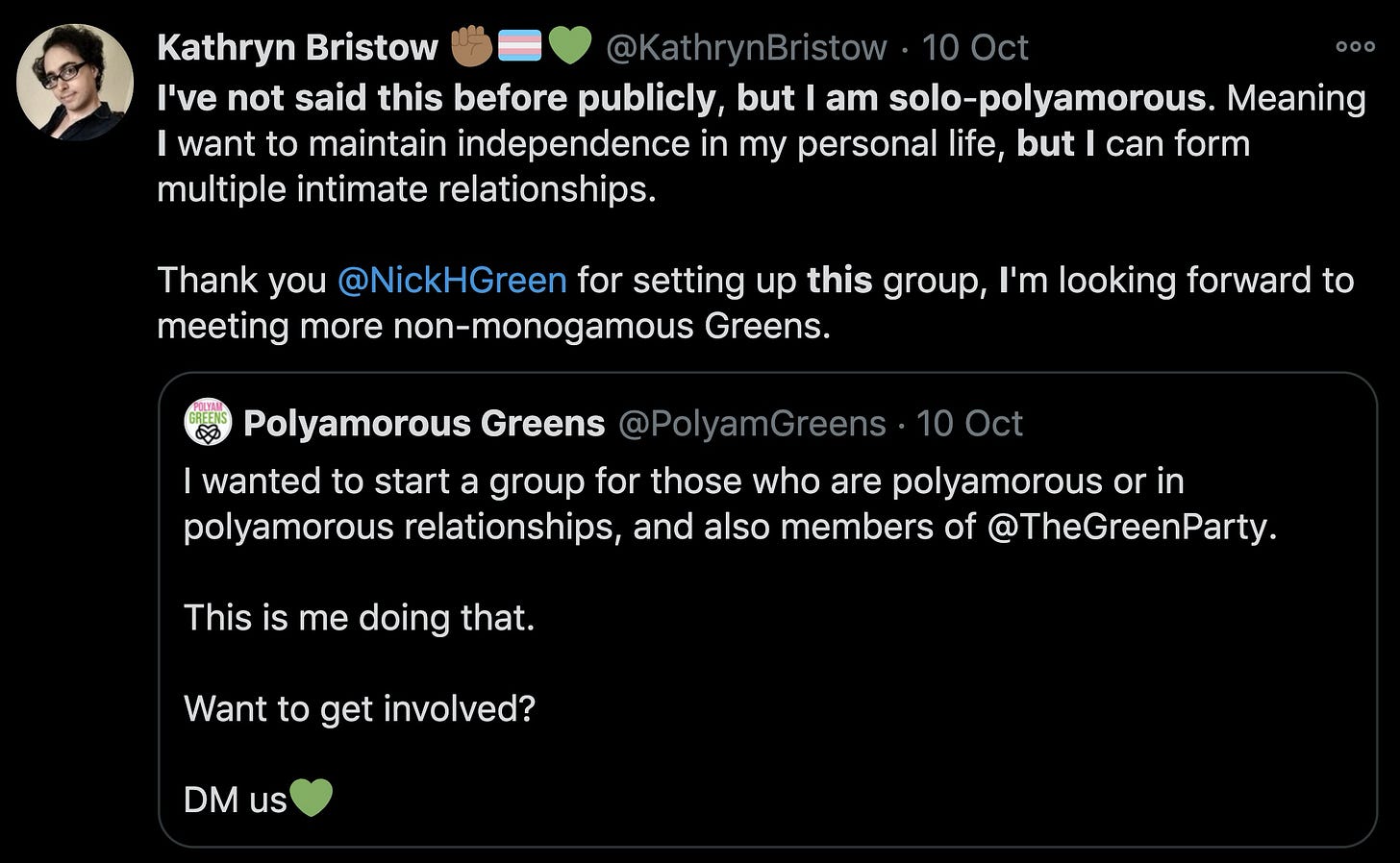 "I've not said this publicly before but I am solo-polyamorous," Kathryn tweeted on Saturday. "Meaning I want to maintain independence in my personal life, but I can form multiple intimate relationships. I'm looking forward to meeting more non-monogamous Greens."
Others might call this 'horny but desperate", but now it's actually a thing, it seems, with former candidate for the deputy leadership of the Green Party Nick Humberstone going so far as to form a special interest group 'Polyamorous Greens'.
Nick is remembered for the difficulty he had defining 'woman' when asked at hustings for the deputy leadership in the summer.
If the 'take-over bid' succeeds, it is feared Green Party Women will return to the male-centring ways it displayed under former chair Claire Lorraine Phipps, who famously reacted to news of Green Party election agent David Challenor's conviction for the torture and rape of a ten-year girl in 2018 by publishing a statement decrying the 'horrific transphobia' suffered by Challenor's trans-identified child Aimee, who at the time was standing for deputy leader of the party.

In the statement, Phipps called on the party to apologise to Aimee. It later transpired at the Verita Inquiry into the affair that Aimee had alerted Phipps, who was a friend but also chair of the party, to the charges against David Challenor two years earlier - and Phipps had failed to pass this information on.

Despite the apparent dominance of gender identity ideology at the top of the Green Party, there are still plenty of members who know exactly what a woman is and women who need their group within the party to speak for them - while LGBTIQA+ Greens speak for their trans and gender-variant sisters and brothers. 
After all, a woman is actually a definable thing with a particular set of challenges associated with her reproductive role in the species - not just a non-man, isn't she?
yours,
James Doe