A Week in the War on Women: Monday 19th October - Sunday 25th October
By JL
Monday 19th October - A Drag Act For 2 Year Olds at Leeds Libraries
THE YORKSHIRE POST: Leeds Council has rescheduled a Drag Queen Story Hour event after being inundated by complaints.
Sab Samuel does a drag act called Aida H Dee and he performs for children in libraries wearing clownish make-up, false breasts and a huge wig. He was scheduled to read to children via Leeds Libraries' Facebook page in June.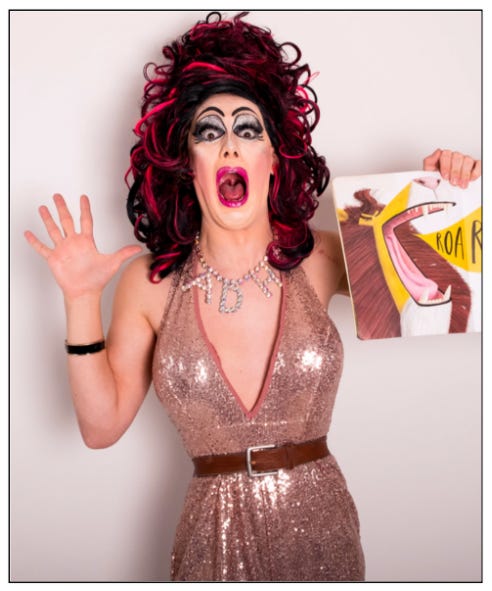 We have written previously about drag, a form of entertainment for adults which involves sexualised parodies of womanhood, being wholly unsuitable for children. Those protesting the Leeds Libraries event raised exactly those same concerns.
Leeds City Council initially postponed the Drag Queen Story Hour in light of all the concerns raised. But the event has now been rescheduled.
Although date and time are tbc, Leeds Libraries are already advertising the event on Twitter. With the replies turned off, obviously.
This is the person Leeds City Council thinks is an appropriate role model to be reading to children as young as two years old.
If you would like to make a complaint to Leeds Libraries you can find all the information you need here. Also, here is Graham's recent interview with Heather Brunskell Evans, which goes some way to explaining why libraries have suddenly decided drag is appropriate for children.

Tuesday 20th October - Cross Dressing Murderer Wants Sex Change
THE DAILY MAIL: A story from Australia, murderer Reginald Arthurell is due to be paroled this week and will be seeking "gender reassignment" surgery on his release.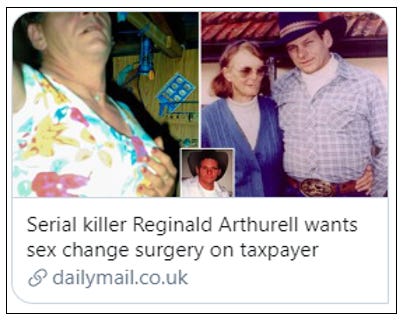 Arthurell was on parole for two previous killings when he murdered his fiancée, Venet Mulhall, bludgeoning her to death with a piece of wood. A photograph of him wearing the victim's dress was found at the murder scene.
Arthurell began identifying as a transwoman while in prison and he intends to transition on his release from custody.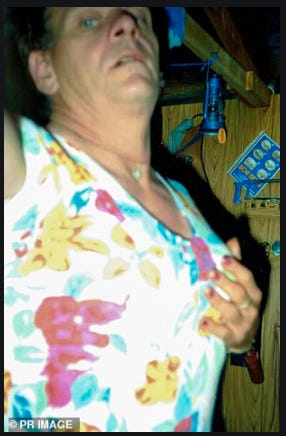 Wednesday 21st October - But When is International Adverbs Day?
It was International Pronouns Day and the nation's rainbow-washed police force didn't disappoint with its adherence to an anti-science, misogynistic and homophobic ideology.

Thursday 22nd October - Women Aren't Allowed Anything Of Our Own
THE PORTSMOUTH NEWS: A trans-identified male has accused a local bowling league of being in the 'dark ages' because he can't play on a women's team.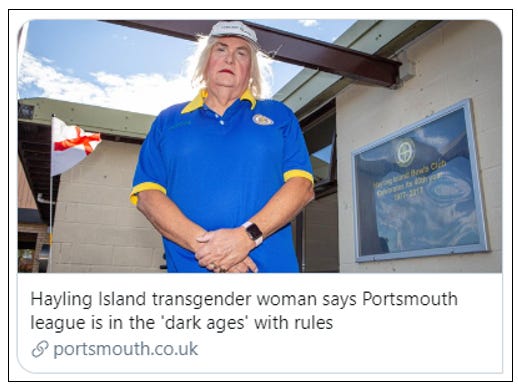 67-year-old Stella Moore, a retired quality engineer and father of two, has been "living as a woman" for the past three years. He has not undergone any surgery and does not have a gender recognition certificate.
He has hit out at Portsmouth & District Women's Bowling Association which, reflecting the policy of Bowls England, requires him to be three years post-gender reassignment surgery or to have a GRC, before he can play on a women's team.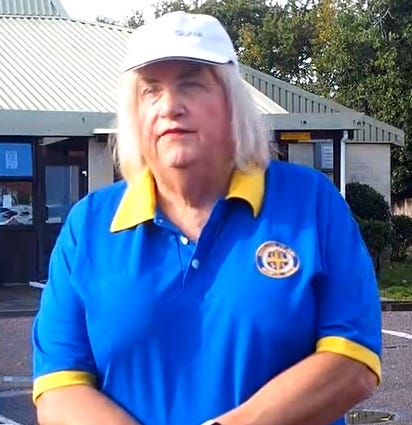 Jon Cockcroft, Chief Executive of Bowls England told the paper, "We will be reviewing and updating our transgender policy ahead of the 2021 season".
Maria Munir, Stonewall's head of community engagements, told the paper, "It's deeply upsetting to hear that this is happening to Stella Moore… We'd welcome a conversation with Bowls England to talk about how they can make their policy as inclusive as possible".
Looks like we'll have to add bowls to the list of women's sports which men are taking over.

Friday 23rd October - Cambridge City Council Embrace Gender Woo
Kevin Price, a Labour councillor for the past 10 years, has resigned from Cambridge Council rather than vote for a motion which upholds gender identity ideology.
The motion was brought by the Liberal Democrats at a session of the full council on Thursday 22nd October. It began with the declaration, "Trans women are women. Trans men are men. Non-binary individuals are non-binary." (See the Information Pack for further details.)
The ruling Labour group supported an amended version of the motion, still with those opening lines, and the motion was passed with 31 for, 3 abstentions and 0 against.
Kevin Price said he could not support this motion and so, having never voted against a Labour motion in 10 years on the council, he felt he had no choice to resign. He said there were times when conscience "must be weighed against the pull of party".
In his resignation speech he stated:
"It is foolish to pretend that there are not widely differing views in the current debate or that many people, especially women, are concerned about the impact on women's sex based rights from changes both legislatively and within society and who fear, not only that those rights are under threat but that they are unable to raise legitimate questions and concerns without a hostile response… The inclusion of the first three sentences of this motion, will send a chill down the spines of the many women who believe there is a conflict of rights and who want to be be able to discuss those in a calm and evidenced based way".
Thank you, Kevin, from the bottom of our hearts. Your support for women's rights will not be forgotten.

Saturday 24th October - Just Call It An All-Person Shortlist
THE TIMES: A feminist campaign group is taking legal action against the SNP after a male was selected for an all-women shortlist.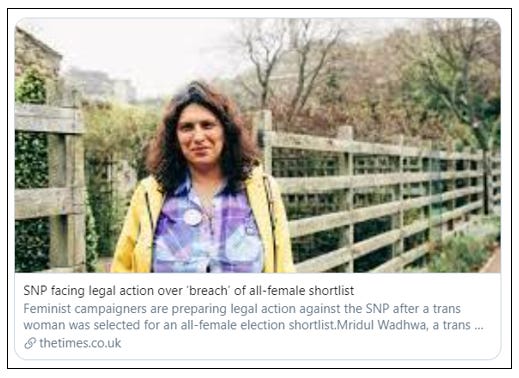 Mridul Wadhwa is a trans identified male but has no gender recognition certificate. He is biologically and legally male.
According to his LinkedIn profile, he is the manager of Forth Valley Rape Crisis Centre.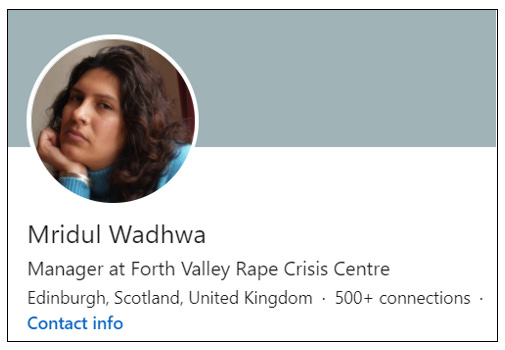 He seems to have concealed the truth about his being male when he was recruited for this role.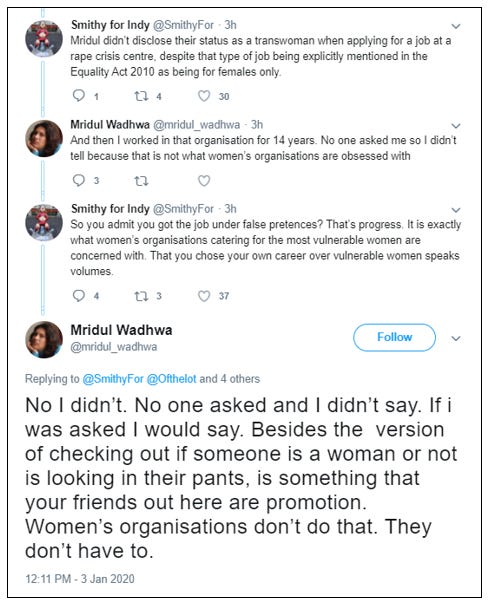 They didn't ask?? But there's a whole section on the application form.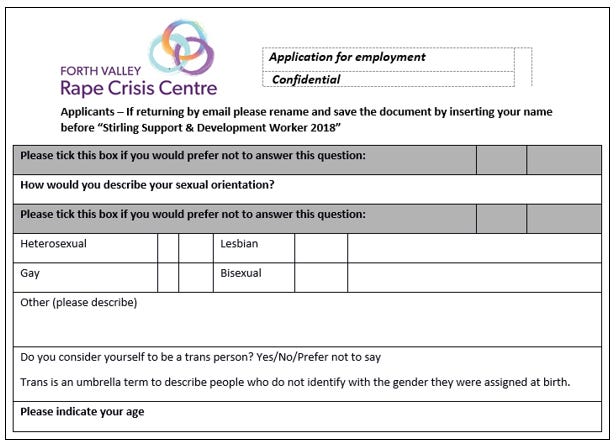 Much of Wadhwa's recent career seems to have involved organisations that work with vulnerable women and children traumatised by male violence.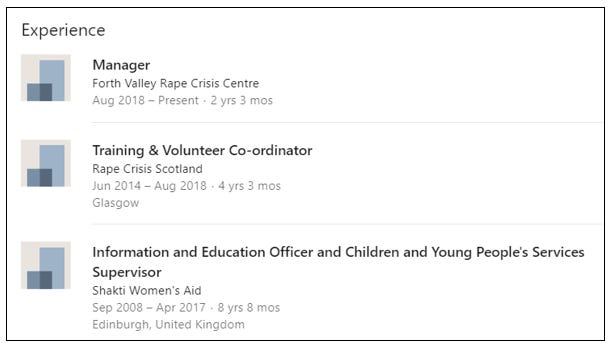 Can't deny he's got some brass neck. In this interview with Fox Fisher he describes the importance of a rape crisis centre being a women-only space. (He also refers to himself as a mother.)
This week Wadhwa was selected for an all-women SNP shortlist as a potential candidate to contest the Stirling seat in next year's Holyrood elections.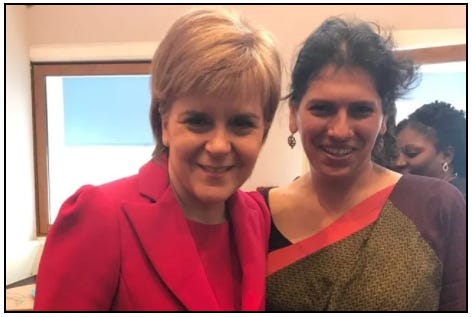 Feminist campaigners, For Women Scotland, believe that the SNP has breached the Equalities Act by putting a male candidate on an all-women shortlist and are taking legal action. Their legal representatives have written to the party on their behalf.
For Women Scotland are also taking action against the Scottish Government over its attempt to redefine the word 'woman' and have been granted a judicial review of the Gender Representation on Public Boards (Scotland) Act 2018.
You can find more information and contribute to their CrowdJustice fund here.
You may remember that last week we reported on Caroline McAllister, an SNP councillor in Dunbartonshire. She is a vocal opponent of the party's plan to bring in self ID legislation and a convener of The Women's Pledge.
She had hoped to stand in Dumbarton at next year's Holyrood election but failed the internal vetting procedure, causing speculation that her gender-critical views have forestalled her advancement.
So a man who steals opportunities meant for women and who lies his way into a job where vulnerable women are in need of a female-only space is considered more suitable for selection than a woman who has already proved her commitment to public office and to women's rights? We see you, SNP.

Sunday 25th Sunday - It Should Never Have Come To This
Feminist campaign group, Fair Play For Women, have confirmed that a judicial review of transgender prison policy will be heard next week.
Current regulations allow trans-identified males, even those with a history of sexual or physical violence against women, to be accommodated in the female estate.
Legislation exists that would allow the Ministry of Justice to exclude all male-born prisoners, regardless of their trans status, from women's prisons - the separate sex exceptions in the Equality Act 2010 and the Prison Rules 1999 - but the MOJ chooses to ignore it.
A female prisoner is now bringing an indirect discrimination claim on the grounds of sex to challenge the policy that allows male prisoners to be placed in female prisons. The woman's legal team will argue that current policies do not adequately consider the detrimental impact on female prisoners and should be quashed.
The woman concerned was assaulted by a trans-identified male who was serving a sentence for rape in a female prison.
Fair Play For Women are supporting her case & have provided written evidence to the court regarding their engagement with MOJ and HMPPS officials.
In order to support FPFW's vital work, you can make a donation here.
We wish them every success with the case.

See you next week.