A Week in the War on Women Monday 5th October - Sunday 12th October
By JL
Monday 5th October - Men Have to be Included in Absolutely Everything
The Women's Prize for Fiction isn't just for women any more.
The Women's Prize for Fiction was originally set up over 25 years ago by a group of literary professionals who realised that industry prizes tended to ignore female authors. They decided to rectify this huge imbalance by establishing a prize just for women writers.
On Monday the Chair of Trustees, Joanna Prior, announced that the competition is now open to "Cis women, transgender women and anyone who is legally defined as a woman". So: everyone.
Just call it 'The Prize'.

Tuesday 6th October - Witch Burning in Scotland
THE SPECTATOR: Last year Scottish poet, Jenny Lindsay, fell foul of trans activists and they have been trying to ruin her career and reputation ever since.

In June 2019 Lindsay contacted The Skinny magazine via Twitter, objecting to one of its writers advocating 'violent action' against lesbian feminists at a Pride march.
Lindsay then became the subject of the most appalling witch hunt; she was attacked on social media, her work was scrutinised, she suffered anonymous smears and false accusations and some of her fellow writers even refused to share a platform with her.
Eventually, in February 2020, the situation became so inflamed that the Scottish Poetry Library issued a statement saying it would not ignore bullying and attempts to de-platform. It was immediately accused of 'institutional transphobia'.
Police warned Lindsay and staff at the library their physical safety may be in danger, having heard that a Scottish antifa group intended to target them.
Lindsay has now written about her experience in the latest issue of literary journal, Dark Horse. Her essay, Anatomy of a Hounding, describes the humiliation and denunciation she has suffered.

Wednesday 7th October - LGBTQ+ Theatre Company Cancels Lesbian playwright
A lesbian playwright's work has been cancelled by a professional theatre company in Virginia because her gender critical views were deemed 'transphobic'.
Carolyn Gage is an American writer, actor and director and a lesbian feminist. Her huge body of work, nine books and 65 plays, focuses on non-traditional female roles and especially lesbian characters.
The Richmond Triangle Players describe themselves as "The longest continuously-operating professional theatre in the entire mid-Atlantic community producing works relevant to the LGBTQ+ experience". This week they announced that they have cancelled their production of Gage's play, The Second Coming of Joan of Arc, after weeks of rehearsals.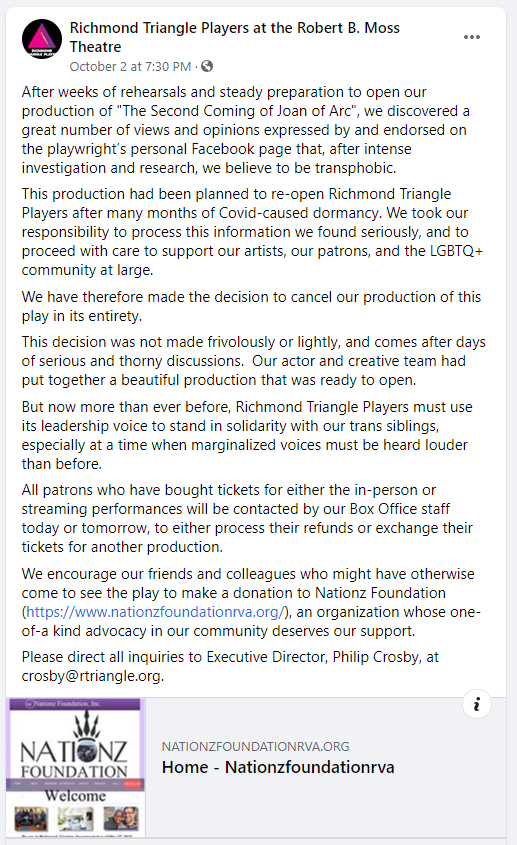 Apparently, "After intense investigation", they found posts on Gage's personal Facebook page which they deemed to be 'transphobic'. Judge for yourselves but it's hard to understand what they found so objectionable.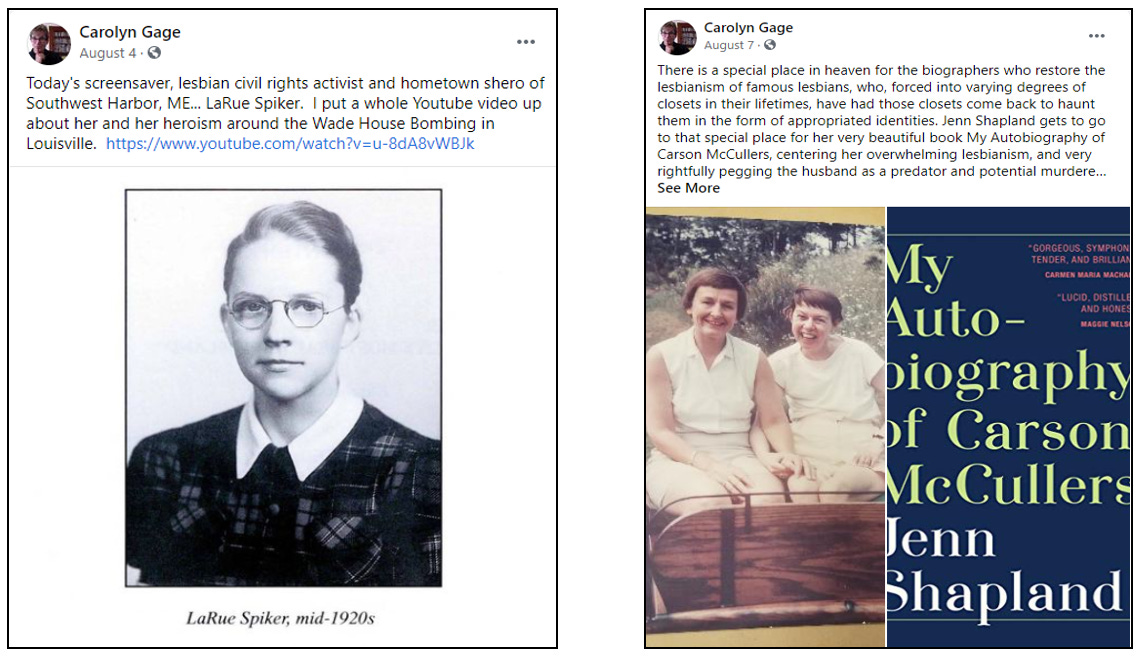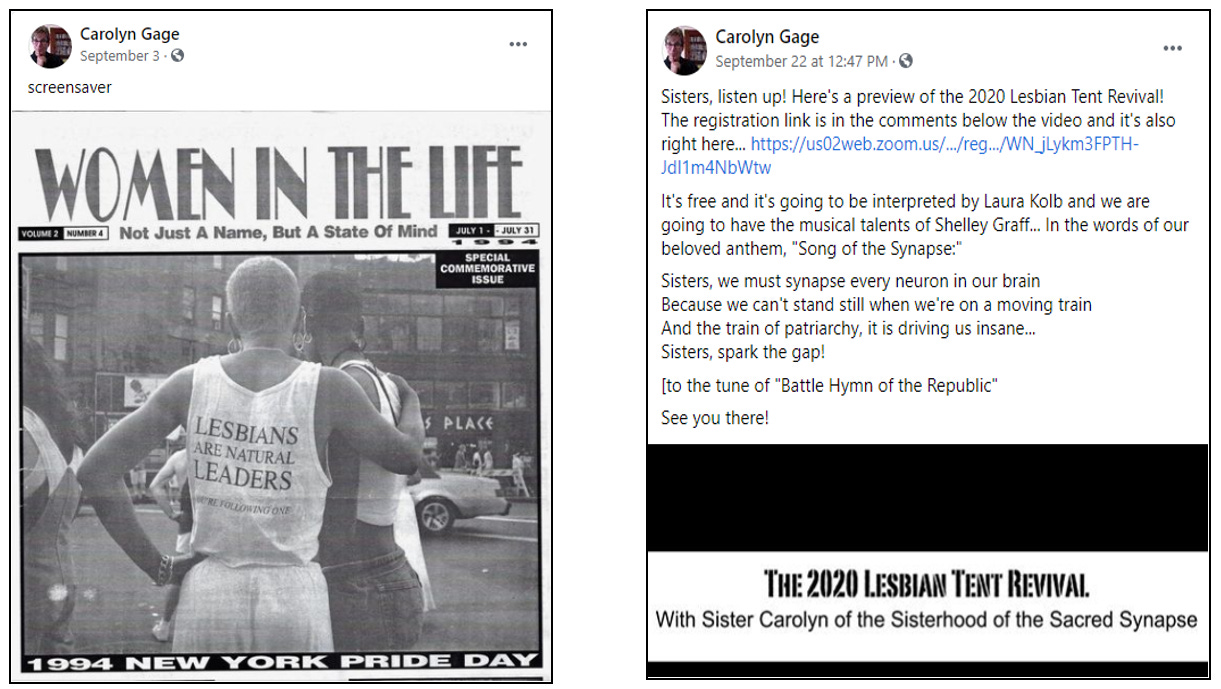 Unless it's all this pro-woman content, of course.

Thursday 8th October - Because There Aren't Enough Women "Gamechangers"
The Financial Times has included Monroe Bergdorf in its "Women at the Top" digital conference.
"This year's theme is 'Gamechangers' – and the focus is on activism. We are highlighting individuals who are driving progress on gender equality in their respective industries."
Aside from the obvious objections to his inclusion, what on earth makes Monroe Bergdorf a 'gamechanger' where 'gender equality' is concerned?
Posing for pornified images in lingerie?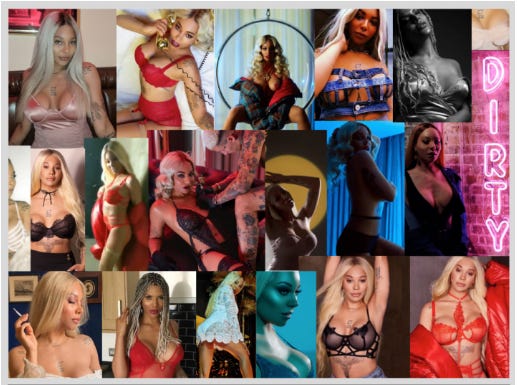 Dictating to attendees of the London Women's March that they must not reference their female biology?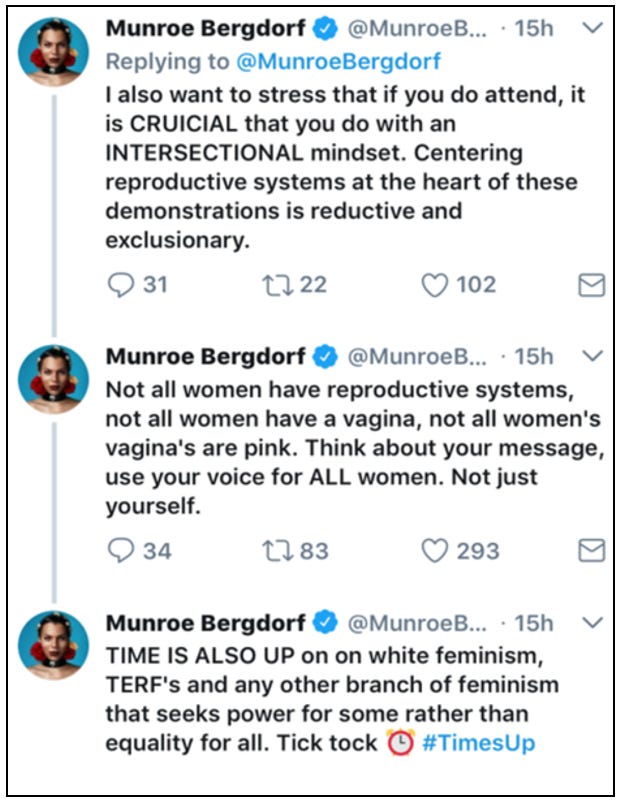 Or telling women they're doing feminism wrong by not including men?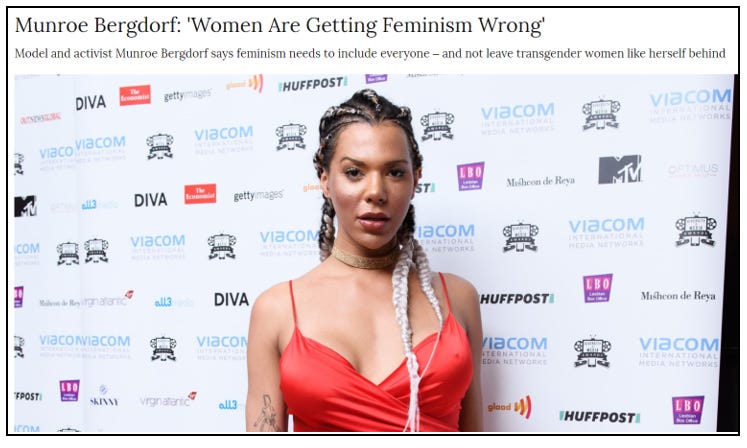 Friday 9th October - The Never-Ending Saga of Labour Losing Women
Kiri Tunks, a teacher and trade union activist, was kicked out of an online workshop about misogyny for asking a question.
Labour MP, Stella Creasy, is partnering with Stonewall to make misogyny part of hate crime law.
Yes, you read that right, the Stonewall that is happy to see women seriously injured on the rugby pitch, that thinks lesbians can have beards and penises and that actively campaigns to strip women of their sex-based rights is involved in a campaign intended to challenge misogyny.
They campaign hosted an online workshop called "Misogyny bootcamp". Kiri Tunks signed up to this workshop and, as she was invited to do by the confirmation email, submitted a question:
"Given the Single Sex Exemptions in the Equality Act are in place to address the misogyny and sexism faced by women and girls, can Stonewall explain why they are lobbying to have them removed?"
She got thrown out.
Stella Creasy responded as follows:
We thought challenging misogyny was YOUR cause, too, Stella.

Saturday 10th October - Witch Burning in Oxford
THE OXFORD STUDENT: 500 Oxford University students have signed an open letter denigrating two gender critical female professors.
Professors Selina Todd and Senia Paseta have been appointed to lead a new programme on Women's Equality and Inequality at the Oxford Martin School.
A group of students signed a letter condemning their appointment, claiming it will create a "hostile and exclusionary environment", and accusing them of the "transphobia".
The instigator of the letter was student Zaman Keinath-Esmail (she/her).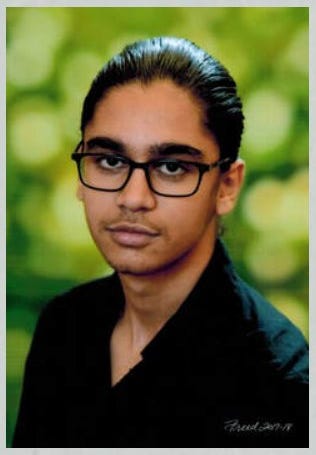 Where were these righteous arbiters of campus morality when Professor Scott needed the protection of security guards after receiving death threats from trans activists?

Sunday 11th October - More Males in Women's Sport
SKY SPORTS: A male cyclist who was dropped recently from the Great Britain men's team is now identifying as a woman.
There was good news for women's rugby this week as World Rugby announced that transwomen will not be permitted to play women's contact rugby at elite and international levels for safety reasons.
However, this Sky Sports piece demonstrates how much catching up all other sports need to do.
Emily, formerly known as Zach (pictured below), Bridges has been competing in male cycling for several years and won a national championship in 2019.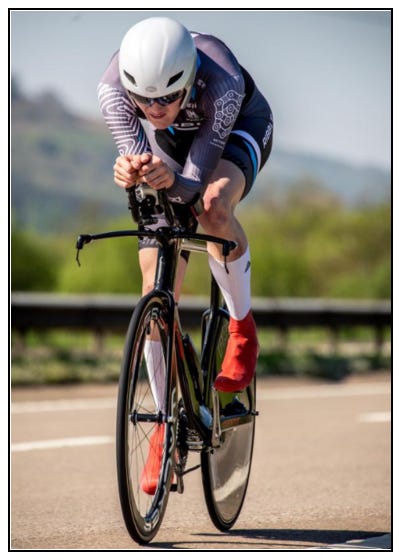 In August this year Zach was dropped from Team GB and, now called Emily, has decided to 'come out' as transgender.
Bridges intends to research the effect of medical transition on athletic performance. (Hasn't this research already been done, demonstrating that males still retain numerous performance advantages, even with the lowering of testosterone levels?)
"I feel I have an opportunity to show that the existing eligibility rules for trans athletes in competition [ie allowing males to compete against women] are appropriate", says Bridges. He has concerns that cycling needs to be more 'inclusive' as it is "Still seen as the domain of white, middle-aged, middle class men".

See you next week.