A Week in the War on Women: Monday 17th August - Sunday 23rd August
By JL
Monday 17th August - Women Aren't Allowed Anything For Themselves
WOMEN ARE HUMAN: Trans activists have sabotaged a feminist campaign focusing on male violence against women.
Marguerite Stern is a Paris-based artist and feminist campaigner. Last August she founded Collages Feminicide, a movement drawing attention to male violence against women through street art.
It didn't take long for trans activists to try and sabotage the movement, hijacking its methods and advocating violence against those involved.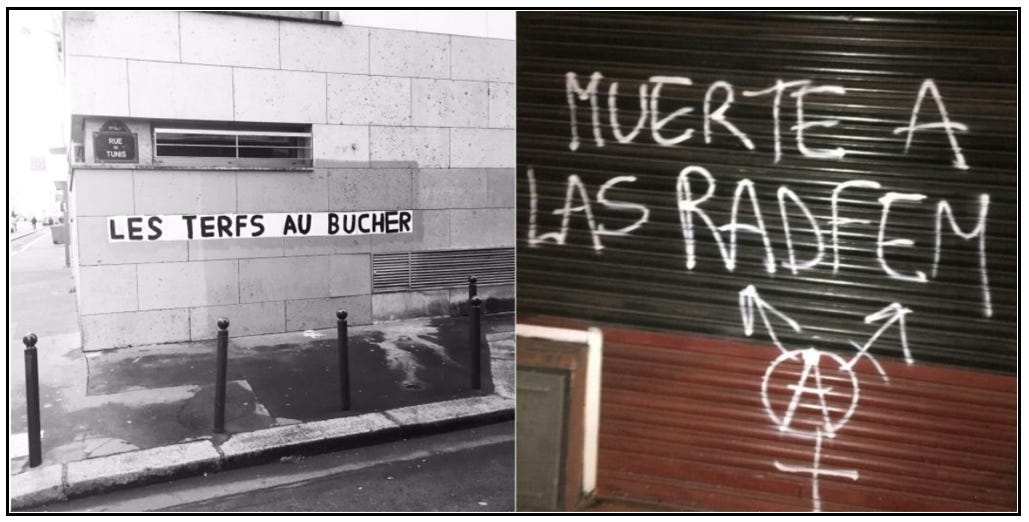 At the beginning of August, trans activists broke into "L'Amazone", a female-only space Stern had set up in which women could meet and organize. The trans activists changed the locks, shut the women out and vandalised their artwork. They even defaced a work honouring a woman who had been killed by her partner by plastering over it with a drawing of a penis.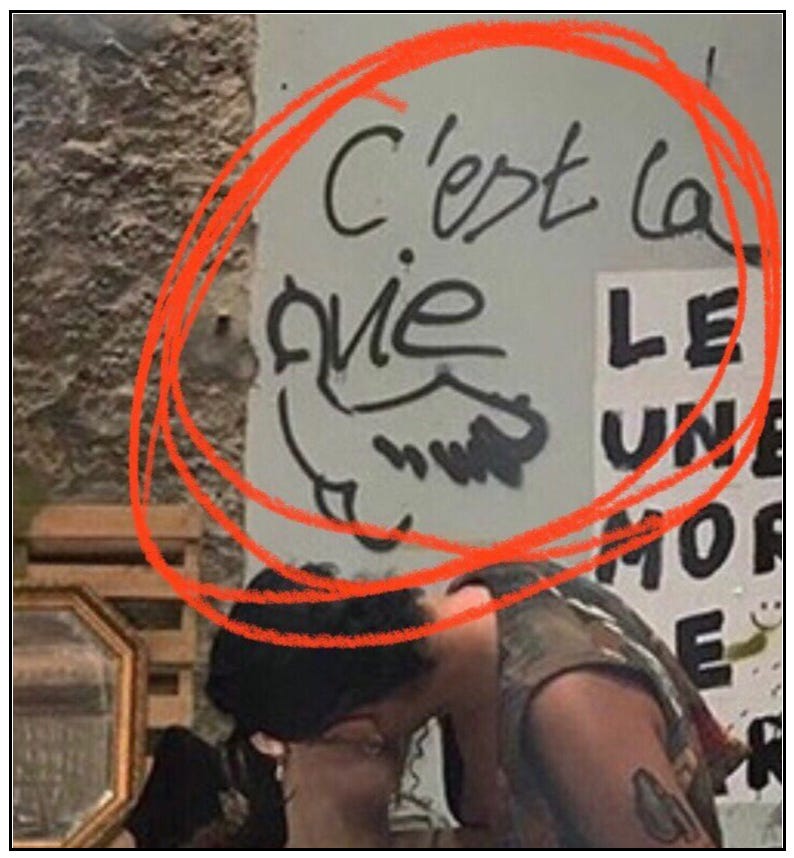 Tuesday 18th August - Follow the Money
UNCOMMON GROUND MEDIA - Why Jack Turban MD should be investigated by the American Medical Association.
Meet Jack Turban, MD. According to his Twitter bio he's a child psychology fellow and a trans youth mental health researcher. He's also the co-author of a book which advocates "Gender-affirming Care for Transgender and Gender Diverse Youth".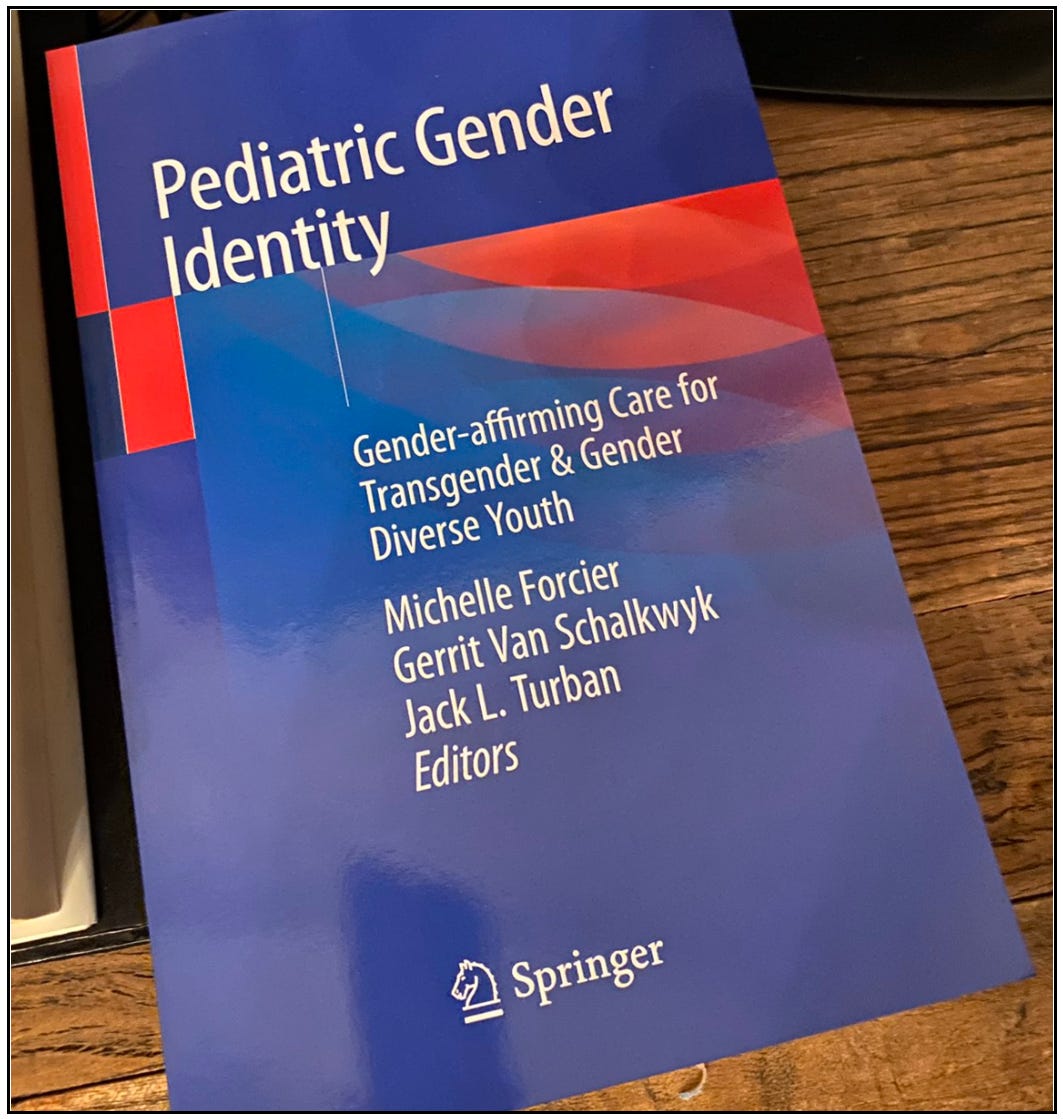 Abigail Shrier's book, Irreversible Damage, highlights the dangers of medically transitioning young girls. Since its publication last month, Turban has been desperate to try and discredit it.
Turban tries to smear as bigots those who challenge the transing of children and he clings to the trans kids suicide myth.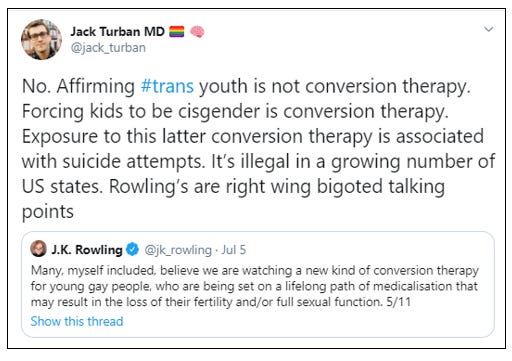 The notion that children not 'affirmed in their gender' are prone to suicide is widely criticised and throwing around such mis-information is hugely irresponsible.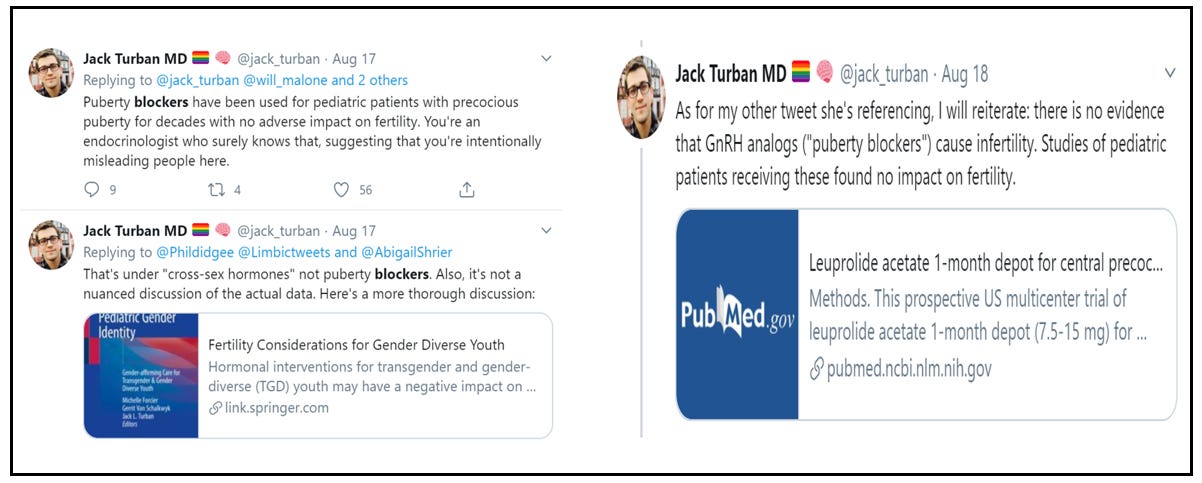 Turban continually asserts that puberty blockers are harmless and have no adverse impact on fertility. However, according to the NHS, "Little is known about the long-term side effects of hormone or puberty blockers in children… It's also not known whether hormone blockers affect the development of the teenage brain or children's bones."
Furthermore, a number of psychiatry papers have been published recently which discredit affirmation treatments for gender dysphoric children. (For example, Griffin et al, published in the BJPsych Bulletin.)
So why is Turban pushing this rhetoric?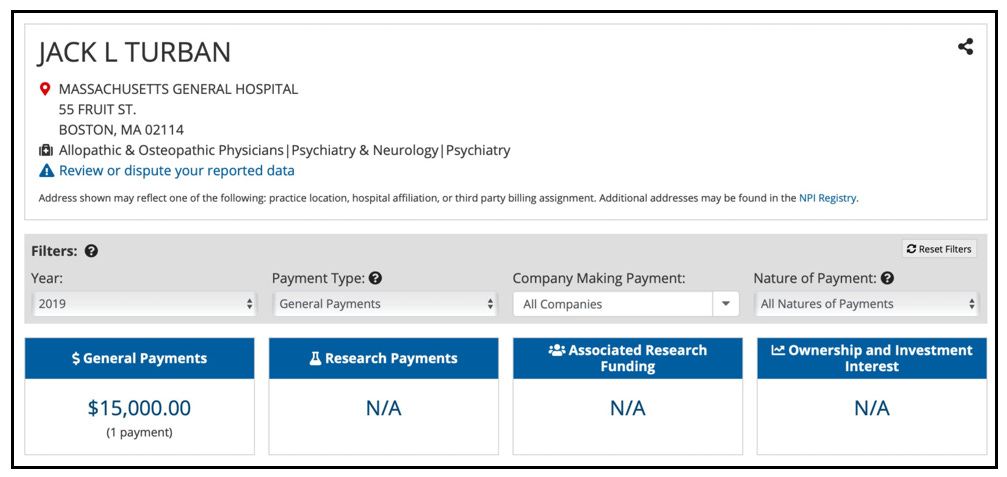 According to the Open Payments Search Tool (which is used to track payments made by drug and medical device companies to physicians and teaching hospitals), in 2019 Turban received at least  $15,000 from Arbor Pharmaceuticals, a firm which manufacturers Triptodur™ (triptorelin), a drug used in the arresting of puberty.
Always follow the money.

Wednesday 19th August - JK Rowling's Publisher Still Bending The Knee
THE BOOKSELLER: Hachette UK is 'partnering' with All About Trans, "An organisation helping companies to promote a deeper understanding of trans issues". It is also making a donation of £10,000 to Stonewall.
Only a couple of weeks ago Hodder Education, part of the Hachette UK group, allowed controversial charity, Mermaids, to edit a law review article so heavily that the journal editor's resigned in protest.
This latest initiative comes after a letter from "A number of staff" was sent to Hachette UK's board. It apparently expresses disappointment that JK Rowling dared to have opinions about gender identity ideology and asks what the publisher is doing to support trans issues.
Doesn't Hachette UK know that nothing will ever be enough?

Thursday 20th - Grooming & Propaganda From CBBC
THE TIMES: BBC children's channel, CBBC, is airing a four-part Australian drama, First Day, about a 12 year old year old trans identified child starting a new school.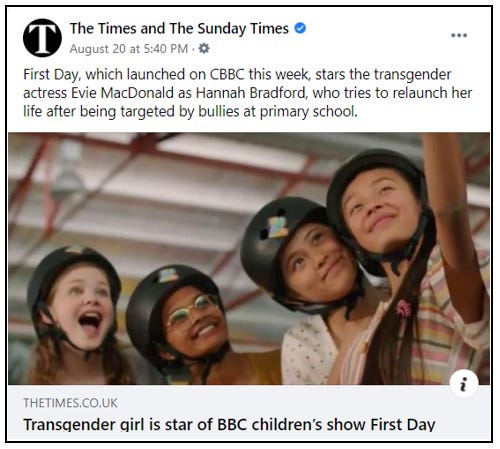 Kate Harris, of the LGB Alliance, told the paper, "It takes a fundamentally one-sided approach to a really complex issue. It's asking children to accept that a boy who feels like a girl is in fact a girl… The way it's presented is that anybody who doesn't accept that Hannah is a girl must by their very nature be really mean, nasty and discriminatory".
Transwoman Debbie Hayton said "I'm transgender myself but this film is misleadingly telling viewers as young as six that if they are unhappy with their sex then they can choose the other one, and then all will be fine. But they can't and it won't, of course".
The national broadcaster is using our licence fee to normalise the transing of children, promote gender identity ideology and gaslight adolescent girls.

Friday 21st August - There's No Identifying Out Of This
THE GUARDIAN: Researchers estimate that sex selective abortion could mean 6.8 million fewer female babies will be born in India by 2030.
Last year The New Scientist reported that, according to worldwide population data, around 23,000,000 female babies have been aborted since sex determination tests became available in the 1970s.
"Many societies value sons over daughters. As people around the world increasingly have fewer children, there has been a rise in families choosing to abort female foetuses."
But biological sex isn't real, right?

Saturday 22nd August - Thames Valley Police & The Multiplying Genders
THE CRITIC: Pups, furries and kinksters have no place in Pride.

Josephine Bartosch wrote about the fetishists trying to ride on the coattails of LGB activism to demand public acceptance and representation at Pride events.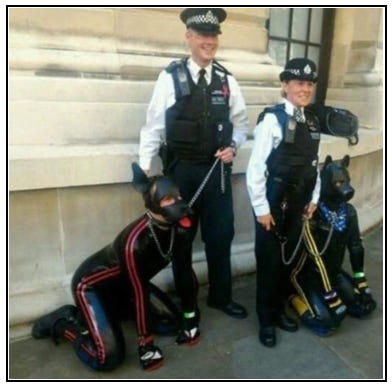 In the course of her research for this article, Bartosch stumbled across an organisation called MyUmbrella which, according to its website, "Is a voluntary led support group based in Reading, Berkshire for the lesser known identities across the sexuality, gender, romantic and fetish spectrum's [sic] collectively known as LGBT+"
It claims to represent 317+ gender identities and, helpfully, provides a list of said identities with their corresponding flags.
It would be easy to laugh this off but look who MyUmbrella lists as one of its 'Community Partners' - Thames Valley Police LGBT Network.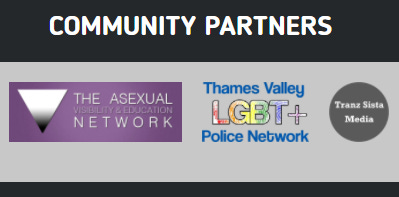 And speaking of the ideological capture of the police…

Sunday 23rd August - The Curious Case Of The Stickers On The Seafront
THE MIRROR: Police investigating a suspected 'hate crime' questioned a woman over her Facebook post about pro-feminist stickers.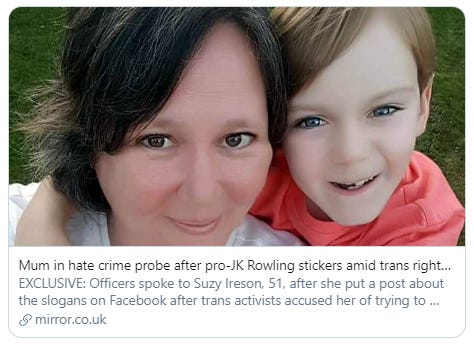 Suzy Ireson saw the stickers around Torquay seafront while she was on holiday with her son. One said "Don't flush our rights down the toilet. Protect single sex spaces" and another, which features the silhouette of a witch's hat, reads "Modern Day Witch Hunts I Refuse to Bow Down".
Ms Ireson posted about the stickers on Facebook. She was accused by trans rights activists of "trying to stoke hatred" and even of posting the stickers herself. She was then visited by the police at her holiday home. When she asked what crime had been committed, the police told her that they weren't sure.
Devon and Cornwall Police confirmed that they had spoke to "an individual" about stickers "Of a potentially hateful nature".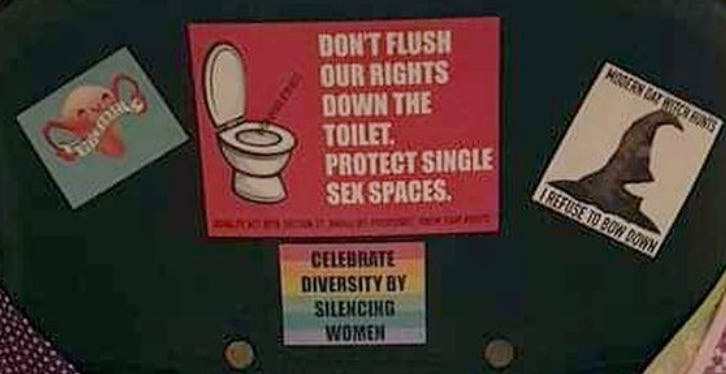 See you next week.